Best Piercing Studio in Ahmedabad
A body piercing is just what it sounds like — a piercing or puncture made in the body by a needle. After that, a piece of jewellery is inserted in the hole. Commonly pierced body parts are the ears, nose, and the belly button. Oral piercings include the lip, cheek, and tongue.
When a piercing is healed, some people will choose to expand the size of the hole to wear certain types of jewellery, including plugs and tunnels. Stretching should be done in small increments to decrease the chance of damage to the piercing and scarring.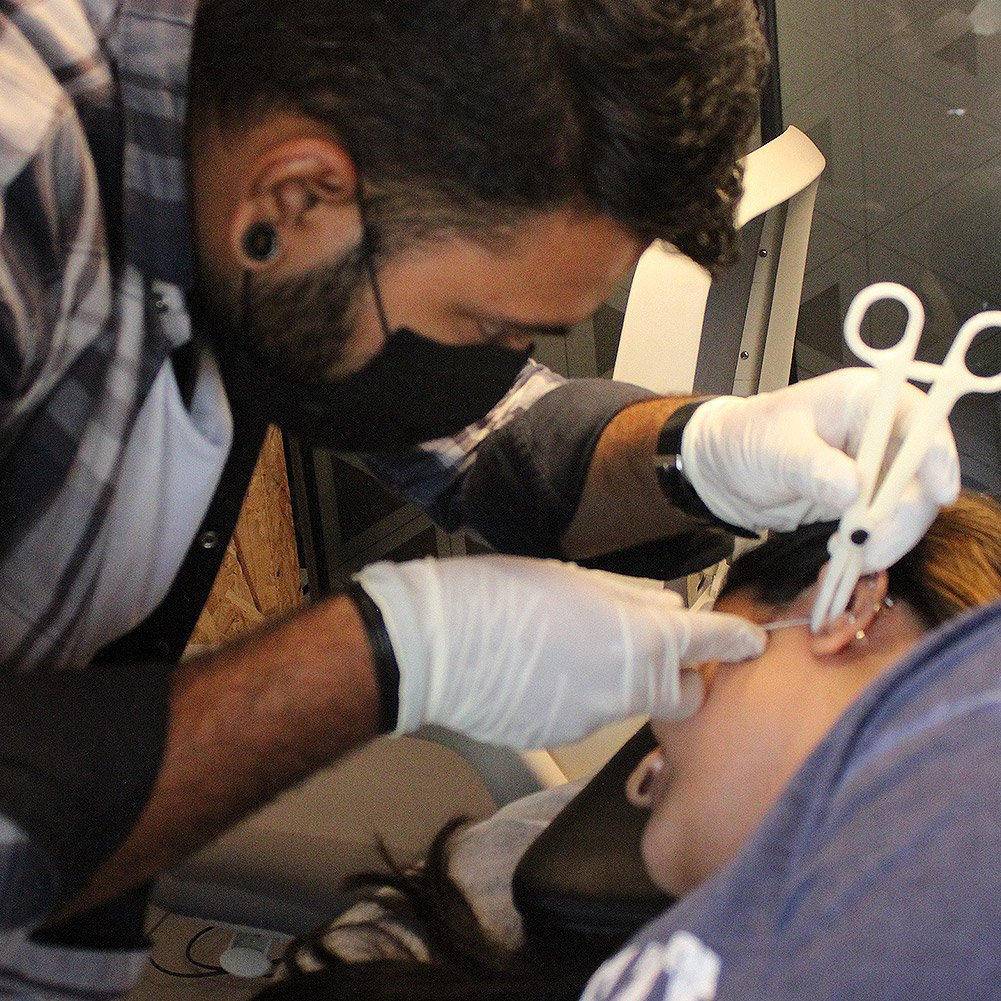 It may seem obvious, but it bears repeating: Always choose high-quality metals so you're less likely to have a reaction." The scientific community may not unanimously agree that certain types of metals can actually make a difference, but plenty of members of the healing world do.
One tells us that "gold is more tonifying or supportive, where silver is more sedative or releasing of blocked energy." Copper has long been associated with healing powers. Using surgical stainless steal 316L material is preferable for fresh piercing.
What are all the types of Piercings?
Piercing can be done all across the body, and there are quite a few spots that are more popular and aesthetically pleasing. Take your time in deciding which one is right for you before getting one done.
We do every kind of piercing that you can imagine. Here are some of the more popular ones that we offer:
EAR
FACE
BODY
What Makes Pierced Different?
At Pierced the safety of our clients always come first. Our professionally trained piercers only practice safe piercing methods using fully disposable tools, a sterile environment, and high quality jewellery.
At Pierced we do not use piercing guns to pierce any clients, instead we use disposable needles. Piercing guns cause unnecessary trauma to the body, and are also not able to be fully sterilised which could lead to serious health risks or infection. Our needles allow for a sterile, safe, and fast piercing experience.
We carry jewellery made from both 14k gold, Silver, 316L surgical stainless steal and implant grade titanium. This is ideal for clients with metal sensitivities that still want to wear stylish and decorative pieces.
After you get your body jewellery, be sure to take care in keeping the area clean and free of debris, including lint and dirt. You can use an antibacterial soap and warm water in order to get the job done. As long as you take precaution to prevent infection, you won't have any issues healing once you get your piercing. You might even be raring to go for another soon after!
What our customers say about our services

I had a great experience at the Black poison studio. It was my first time piercing and Yash and the team were too helpful in guiding me through it!! I love my nose piercing…It was a comforting and not at all painful.
Sanchna Ram

It was amazing experience at black poison tattoo studio. I did ear piercing and it was very hygienic process of team. Thanks Yash for the amazing service.🙂
Barkha Gohil

A wonderful destination to get piercing and much supporting staff. I got it from Mr Yash and he was firm with the process and well supported for the same. Recommended to everyone.
Hrutvi Panchal

After much research i finally trusted Black Poison tattoo with my septum piercing and I'm so glad I did. Not only did Yash do a stellar job at the piercing but also took the time and effort to address all my doubts and fears. I also went back for a follow up check-up and aftercare consulting, everyone was extremely helpful.
Priyanshi Jain
We care about the art we create.
At Black Poison Tattoo Studio, you will always find a friendly, courteous, professional staff dedicated to the art of Tattooing & Body Piercing.
Black Poison Tattoo Studio uses the best of equipments, world class standards of tattooing and our Hygiene standards meet International levels.
Packed Needles are opened in front of you and after the tattoo is completed, it is either given back to you or destroyed. Also everything that touches your skin is new like the needles, ink caps, gloves, razors etc to make your tattooing experience a memory for lifetime.
Black Poison Tattoo Studio features a team of highly skilled artists, who share a passion for tattooing and for connecting with clients to bring their artistic visions to life.
Black Poison Tattoo Studio is committed and is religiously working for the growth of Tattoo Art in Ahmedabad, India.
We see all big cities of India have already given a nod to the potential of this art. Providing quality information to anyone who needs will surely help this art getting the deserved Love and Respect.
Our aim to provide you with a piece of art you will be proud to wear. We offer a clean, friendly and professional studio to ensure that your tattoo experience is as enjoyable as possible. 100% privacy and comfort is guaranteed during your appointment.
Mr. Jack and Robby (Raju) have over 13 combined years of tattoo experience in Black Poison Tattoos.
They are full time artists and opened up Black Poison in June of 2010. Jack's artistry in tattooing and drawing started around that time, and as you can see by the artwork.
Nowadays Black Poison Tattoos build up a highly skilled tattoo artists team, who share a passion for tattooing and for connecting with clients to bring their artistic visions to life… Black Poison is a one of the outstanding custom tattooist in the tattoo industry, The artists at Black Poison have experienced in all type of tattoo designs.